Proposition of the Cavaliada Summer Jumping tournament is available
24.05.2016
On sand, by the sea
17.05.2016
It is worth to buy tickets in advance
15.05.2016
The Cavaliada Summer Jumping
14.05.2016
Cavaliada Tour
Cavaliada Tour to jedyny w Polsce halowy cykl zawodów jeździeckich autoryzowany przez Międzynarodową Federację Jeździecką (FEI). Tour odbywa się w trzech miastach Polski - Poznaniu, Lublinie oraz w Warszawie.
Go to photo gallery
CAVALIADA Warszawa 2016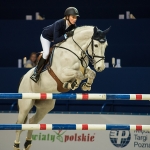 CSI3* - konkurs nr 3 - DUŻA RUNDA, szybkości (145 cm) , FINAŁ CEL FEI WORLD CUP™ pod patronatem portalu Tylko Skoki, o nagrodę IDEAExpo.MTP
The Cavaliada Summer Jumping tournament will be held in an open-air, unique scenery of Kołobrzeg beach. It is the first time Europe will see a horse riding arena located on  sand by the sea. This is what makes the project comparable only to such prestigious tournaments as the one held in Miami, Florida.
The Cavaliada Tour is held in Poznań, Lublin and Warsaw. This is the only indoor equestrian event in this part of Europe which has received an official accreditation of the International Federation of Equestrian Sports and the "Teraz Polska" distinction.