Four dimensions of equestrian sport in ERGO ARENA
The first ever CAVALIADA in Sopot will begin in a week. On January 20-23 in ERGO ARENA, competitions of four equestrian disciplines will take part: show jumpers, dressage riders, drivers, and eventers. What is the situation in the CAVALIADA rankings?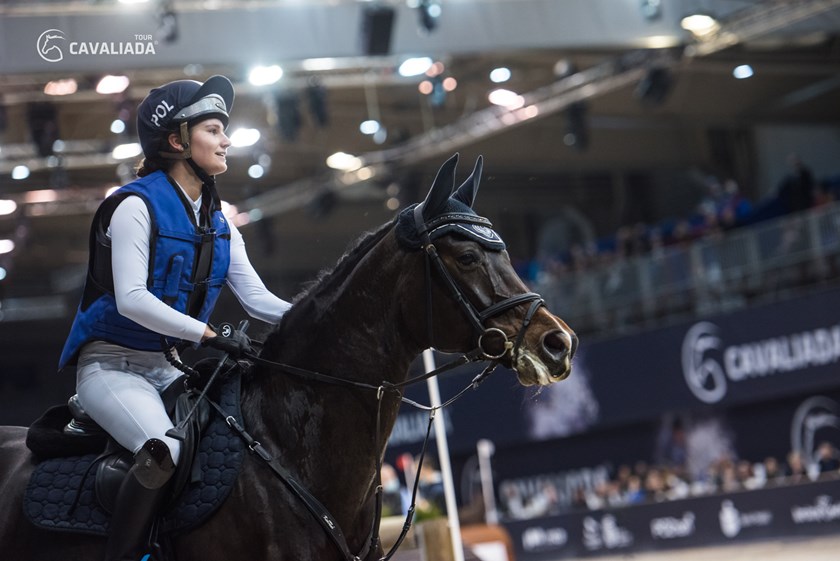 TRAF Eventing Tour – Polish Indoor Eventing Cup
After the victory in Poznań, Julia Gillmaier, with 27 points, went up into the leading position.
- Together with Ding Dong we are looking forward to CAVALIADA in Sopot. I must admit that I did not expect that he would like the atmosphere of CAVALIADA so much. I like Sopot and I am very curious about the infrastructure and the large arena by the sea. I hope that the fans will support us as much as in Poznań and we will all have fun - says Julia Gillmaier, gold medalist of the Polish Young Riders Championship.
Paweł Warszawski, representative of the Baborówko Equestrian Association, is only three points behind her. Both in Warsaw and Poznań, he presented a very good and solid form, taking second and third place. Joanna Pawlak lies in the third position in the ranking.
The TRAF Eventing Tour class will take place on Friday, at 18:15.
CAVALIADA Driving Tour – Polish Indoor Driving Cup
The ranking of the Polish Indoor Cup in Four-in-hand Driving is dominated by Piotr Mazurek. The representative of LKS Sokół Kunowo has three victories and 33 points to his credit. Bartłomiej Kwiatek is second, and Aleksander Fularczyk, debuting at CAVALIADA, is currently third.
- CAVALIADA is an amazing adventure for me. Competing in the same arena with such athletes as Piotr Mazurek and Bartłomiej Kwiatek is an amazing opportunity to gain a lot of valuable experience. Saturday's competition in Poznań, in which I took second place, showed that I can rival the best and it gave me great motivation to train and work - says 21-year-old Aleksander Fularczyk. - I am waiting impatiently for Sopot, especially because ERGO ARENA is close my hometown, where I train and live. I am convinced that I will have exceptional support here and a crowd of fans from Kashubia who have declared their presence. I have been a fan of CAVALIADA for many years. My dream was to compete during the event, but I did not think it would happen so soon - I have been driving for only five years. However, you have to be careful with your dreams, because sometimes they do come true (laughs).
Driving competitions in Sopot will be held on Thursday at 19:15 and on Saturday at 17:00.
CAVALIADA Dressage Tour
Dressage riders have four classes behind them - two during CAVALIADA in Warsaw and two in Poznań. The Lithuanian athlete, Sandra Sysojeva, remains the leader. Let us remind you that Sandra Sysojeva won the previous CAVALIADA Tour ranking in 2019/2020 and will certainly want to repeat this success.
- You usually come to the seaside during the summer, but for riders any time is good to visit Sopot. Together with the exceptional horse Jack Daniels, we invite you to watch the dressage in ERGO ARENA. You cannot miss it. See you there - says Sandra Sysojeva.
Sandra Sysojeva's ride:
Second place in the ranking belongs to KJ Golden Dream's Aleksandra Szulc, with 33 points to her account. The winner of the two classes in Poznań – Anna Mierzwińska, representing Skrzyczyńscy Sports Stable, lies in third.
The dressage competitions in Sopot will be played out on Friday at 7:00 and on Sunday at 12:00.
CAVALIADA Tour
The CAVALIADA Tour ranking adds up eight show jumping classes (two for each event). As part of this ranking, prizes will be awarded in two classifications: the best CAVALIADA Tour rider and the best CAVALIADA Tour athlete up to the age of 21.
In the CAVALIADA Tour ranking, the leader is Hungary's Zoltàn Czèkus, who was victorious in the Warsaw Grand Prix. This competitor scored points in each of the classes held in Poznań and placed seventh in the Grand Prix. Second place belongs to Greek rider Angelos Touloupis, and three athletes lie in third ex aequo: Jarosław Skrzyczyński, Wojciech Wojcianiec and Annelies Vorsselmans.
- CAVALIADA is one of the best tours I have ever been on. Great organization for both riders and fans. I will bring my two best horses to Sopot: Blue Balou and Lord Mexx, as well as Jardy for speed competitions. I'm very much looking forward to it - says Angelos Touloupis.
The classes counting for CAVALIADA Tour are Friday's Big Tour (13:50) and the Sunday Grand Prix (14:20).
CAVALIADA Future
CAVALIADA Future classes, for the prize of PKO Bank Polski and under the patronage of Torpol, are a fixed point of the Saturday and Sunday program. Children's competitions are divided into the Mini and Midi categories.
In the Mini category, the leader is Katarzyna Zawadzka, with two wins and 38 points to her account. Maja Nagła is only two points behind her, and third position belongs to Julia Nazarewicz.
The best one in the Midi category after two legs is Julia Peszek. The SKJ Beckersport rider was victorious two times – in Warsaw and in Poznań. KJ Akademia Kucania Dawidy riders occupy the next two positions in the Top 3 – Zofia Hart Dyke and Zofia Ciszek.
CAVALIADA Future competitions in Sopot will be held on Saturday at 11:15 and on Sunday at 10:00.
CAVALIADA Sopot takes place on January 20-23, 2022. Tickets are available via the website: https://tobilet.pl/cavaliada-sopot-2022.html